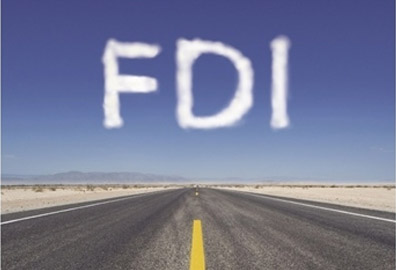 ISLAMABAD, Oct.18 : In terms of Foreign Direct Investment (FDI) 2020-2021, China has consolidated its first position as topmost FDI country in Pakistan, according to a report published by Gwadar Pro on Sunday.
It poured $103.6m during the first quarter of FY21 in comparison to $55.4m last fiscal year. Meanwhile, Hong Kong also increased FDI to $38.4m during the first quarter compared to just $6.9m in the same period last fiscal year.
The data mentioned above has been released by State Bank of Pakistan (SBP). China's FDI is proving as a breather for Pakistan as except China the rest of FDI's outlook has presented a bleak outlook.
As per SBP's recent data, Foreign direct investment (FDI) into the Pakistan dropped 50.7 per cent year-on-year in September to $189 million against $383.5m last year. The flight of FDI from United States fell to $18.9m compared to $26.5m in the previous fiscal.
Chinese inflow as FDI in Pakistan has become a sign of booster for Pakistan economy. Over the last 9 years consecutively, China has been securing as biggest source country pumping up investment in Pakistan.
Cumulatively in the first half (Jul-Dec) of the fiscal year 2019-2020, China invested a net $422.5 million compared to $217.1 million in the same period of 2018-2019.
During 2013 to 2018, Pakistan received US $11.96 billion worth of net Foreign Direct Investment (FDI).
Year wise data manifested that during 2012-13, net inflow of FDI was posted at US $1.456 billion, while during 2013-14, the net FDI was registered at $1.699 billion, and in 2014-15, the total FDI stood at $987 million. Similarly $2.3 billion worth of FDI flowed to Pakistan during 2015-16, $2.746 billion in 2016-17 and $2.767 billion in 2017-18.
According to data issued by State Bank of Pakistan (SBP), China emerged as highest investor with $4.966 billion during the period followed by UK, which made FDI of $1.6 billion.
Similarly, investment from United States during last five years was recorded at $813 million, from United Arab Emirates $425 million, Japan $281 million, Hong Kong $858.6 million, whereas Switzerland made investment worth of $600.2 million.
The biggest attraction for the FDI during the FY21 was power sector which received $113.3m against $32.3m in the same period last fiscal year.
Another attraction was financial business (banks) which received $102.5m in the first quarter compared to $30.7m in the same period of last fiscal.
Fahad Zubair, an economist said that FDI was separate from the China-Pakistan Economic Corridor investments. As much as 22 CPEC projects worth nearly $28 billion have been actualized.
He said that some Western investors appeared reluctant be cause of the misperception that Chinese companies would be beneficiary of "exclusive advantages" and concessions that would not allow for an even playing field.
"A perception has been cultivated that the Chinese are taking over. The fact of the matter is that this is not true," he added.
He clarified "Pakistan's government has no ambiguity about it: It welcomes investors of all hues to come in and participate in building this economy – whether American, English or Japanese."