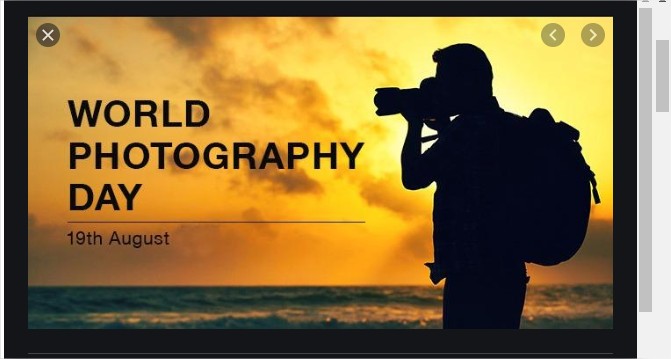 DNA
FAISALABAD, AUG 19 – World Photography Day, a day to pay homage to the history of photography, World Photography Day originates from the invention of the daguerreotype photo process system, developed by Louis Daguerre. On January 9, 1839 The French Academy of Sciences announced the process and a few months later, on August 19, 1839, the French government announced the invention as a gift free to the world. Louis Daguerre
International Photographic Council the United nation Chief for Pakistan Middle East Muzammil Izhar Siddiqui he told International Photographic Council a NGO of The united Nations celebrates the 'World Photography Day' every year in Pakistan where all photojournalists play vital role in celebration and convey the message of "Peace Through Photography" to the people of Pakistan
Famous saying goes like, 'a picture is worth a thousand words', and there is absolutely nothing that can prove this wrong. No amount of words can describe a thing as beautifully as a picture can. To celebrate this beauty and art, August 19 is celebrated as the World Photography Day.
Pakistan is a talent hub of several expert and amateur photographers, who put up their lives on risk at times to capture breathtaking clicks. On this World Photography Day, let's have a look at a few of these artists, who create a canvas with their camera.
Every moment that passes is a picture. What hit the camera is dead, What remained safe in the mind was given a lifetime of viewership and what could not be made ended with the next breath.
Even when the picture was not taken with the camera Even then people made portraits, Used to create landscapes, Even selfies were painted. Van Gogh's self-portrait can be seen,
And there were many builders. When the camera came, the work became a little easier. The cameras that were there in the beginning were called 'soulful' cameras. The people sitting in front of him may have given him this name after waiting for a long time President Faisalabad Photo Journalists Association Muhammad Tahir said
World Photography Day aims to promote the art of photography
And the captivating and beautiful scenes of the world have to be captured in the eye of the camera and presented to the world World Photography Day is a platform For all the photographers who want to start their art regularly
That they upload a picture of themselves and show their art to the world.
It is a great pleasure for a Pakistani photojournalist World Photography Day was celebrated in every city of Pakistan In which Karachi-Hyderabad-Badin-Sukkur-Lahore-Peshawar-Faisalabad-Gujranwala-Sialkot-Sargodha-Skardu-Gojra-Quetta-Rahim Yar Khan-Multan-Dera Ghazi Khan.