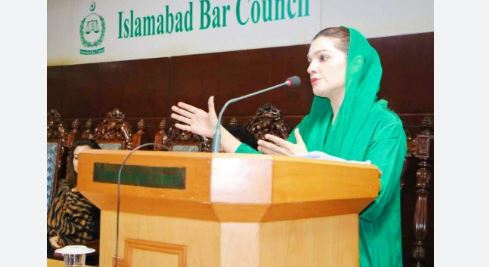 ISLAMABAD, Dec 10 (DNA): Mushaal Hussein Mullick Chairperson Peace and Culture Organisation deplored the world criminal silence in the face of alarming upsurge in systematic genocide, extrajudicial killings, arbitrary arrests and torture of innocent Kashmiris by brutal Indian troops.
Addressing Islamabad Bar Council on the event organized to mark International Human Rights Day here on Saturday.
Secretary General Sabeen Hussain Mallich, Advocate Supreme Court Rizwan Abbasi, Vice chairman IBC Syed Qamar Hussain Shah Bukhari, Chairman Executive committee Raja Muhammad Aleem khan, Adil Aziz qazi and Naseer ahmad kiyani grace the event.
She said that the world was observing International Human Rights Day but the Indian Illegally Occupied Jammu and Kashmir (IIOJK) continued to reel under violent and brutal Indian occupation and political injustice.
She said that the oppressed people of Kashmir were completely deprived of Universal Declaration of Human Rights (UDHR), adopted by the United Nations General Assembly on 10th of December in 1948, as among 30 basic human rights enlisted in the UDHR, not even one existed in IIOJK.
Mushaal, 'wife of Jailed Kashmiri Hurriyat Leader Mohammad Yasin Malik, said that since Narendra Modi fascist government came into power, the frequency of hate crimes against Muslims, unlawful detentions, ethnic cleansing and the efforts to change demography of the occupied valley increased manifolds, virtually turning IIOJK a non-living place for its inhabitants.
She went on to says that the Indian security forces have turned IIOJK into a world largest open-air prison and torture cell, as Kashmiris were facing saffron-junta-led terrorism and extremism with full backing of BJP leadership.
"These human rights abuses in IIOJK range from mass killings, enforced disappearances, torture, rape and sexual abuse to political repression and suppression of freedom of speech," she added.
The Hurriyat leader stated that stressed that the oppressor like India, involved in heinous war crimes against the people, demanding their inalienable right of self-determination, but the so-called human rights organisations did not dare to utter a word about the world worst human rights violations in the valley.
She said that thousands of Kashmiris including Muhammad Yasin Malik, APHC Chairman Masarrat Aalam Butt, Shabbir Ahmed Shah, Aasiya Andrabi, Nayeem Ahmad Khan and other political prisoners and youth were languishing in different jails of India and IIOJK.
The international community must now break the silence and play its due role in putting an end to human rights violations in IIOJK, she demanded.
Mushaal urged the world powers, human rights organisations and UN bodies to take notice of the on-going genocide and ethnic cleansing of Muslims in the occupied valley and put pressure on New Delhi to give the Kashmiris their inalienable right to self-determination.