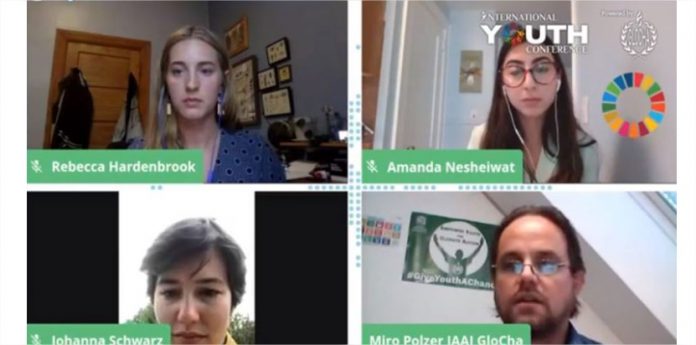 The world continues to reel from the coronavirus pandemic and the number of cases and deaths rise by the day. A two-day International Youth Conference was organised to discuss the issues that have cropped up due to the pandemic.
Thousands of young people from across the world registered for the event "Regeneration: Youth Leadership in Rebuilding a Post-COVID-19 Sustainable World with Sustainable Development Goals (SDGs)".
It was organised by IAAI GloCha – Uniting the World in Global Challenges Action, Generation Next – Voice of Youth, The Big Picture Pk and The School of Writing.
The first discussion discussed the dangers of climate change, and the need to buy local products to boost the farming sector.
The role of technology in achieving the SDGs was also discussed and it was noted that the sector created 300,000 jobs in 2019. Speakers stressed the need to integrate young minds into mainstream businesses and called for the declaration of internet devices like broadband a basic human right.
Members of different United Nations bodies spoke on how the organisation accommodates young people. It was noted that the UN passes a resolution for the youth every two years. The speakers advised young aspirants to work in their communities instead of waiting to have their careers launched. They believed that an "authentic message of an individual is their true power".
A discussion on the youth action for leveraging SDGs marked the start of day two in which it was stressed that communities should start working themselves instead of waiting for the government or other countries to fix their problems. They noted that illiteracy is a challenge when it comes to crisis resolution and how online courses can help the people.
The phenomenon of fake news and spread of misinformation was also discussed and speakers stressed the importance of credible sources for news stories. It was pointed out that audiences tend to get confused between factual journalism and opinion-based journalism. They said media literacy is needed and must be taught at a young age.
The future of the United Nations was also discussed during the last session of the event. Speakers said that issues such as unemployment need to be tackled in order to prevent other problems such as terrorism from taking shape.
It was also stated that the world has learnt to find different solutions to problems and young people should acquire skills and start working with technology to help them achieve their objectives. Speakers also called for the restructuring of organisations and said they should start working on the SDG objectives.
The event wrapped up with a closing ceremony in which the organisers thanked the speakers and attendees for coming on board for the initiative. Several video clips of people's efforts to achieve SDGs were also shown at the end.