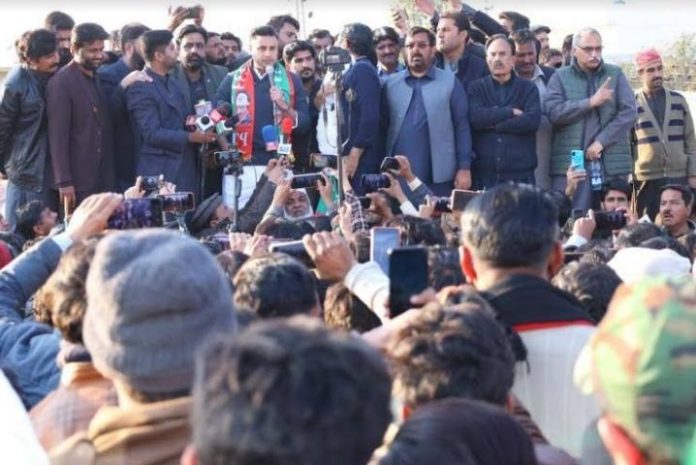 FROM QAZI SHOAIB KHAN
DNA
ATTOCK (JAN-22): Central Leader of Pakistan Tehreek e Insaaf and Candidate for NA-50 Attock Syed Zulfiqar Abbas Bokhari (Zulfi Bokhari) while addressing the PTI' ElectionKrao, Mulk Bachao ,rally in Fatehjangon Sunday has said that PML(N) Alliance Government of 40 Kilometers ismanipulating to prolong their tenure as they are afraid of their sure defeat in the forthcoming elections.Among others, the overcrowded public gathering was also attended by former MPA Attock Sardar Mohammad Ali Khan, Mr. Naveed Malik, Haji Fazal, Mr. Aqib Khan and a large number of PTI workers.Speaking to the participants, Syed Zulfiqar Abbas Bokhari (Zulfi Bokhari) has said that Mian Nawaz Sharif will directly go to jail soon as he come back to Pakistan. The siting government of PML(N) Alliance has lost its popularity in the masses due to its anti-political policies adopted just to settle their scores with the PTI,s staunch workers and common people of the country.
They have targeted their senior leaders Mr.Azam Swati, Dr. Shahbaz Gil by twisting the facts besides harassing the social media activists and imposing restrictions on media even they our brave journalist Arshad Sharif lost his breath. He said that they are experiencing all these crucial hours and agonized situation for the people of our country. Mr. Zulfi said that form er Prime Minister Imran Khan has taken bold decision to dissolve the provincial assemblies to get rid of this ineligible and imported Government of PDM.
He further said that the present Government has dragged the country into a severe financial crunch bringing the price hike up 25% which will be gradually increased up to 40% if the Government agreed with the conditions of the International Monetary Fund. He said that PPP has did nothing for its people of Sindh despite their continuous rule of 40 years even the situation of district Larkana could not upheld. Mr. Zulfi said that the siting Government of PDM has tried its best to pressurize Mr. Imran Khan levelling baseless allegations under one pretext or the other but he did not leave behind from his political stance.
He said that Imran Khan has sacrificed by putting his life on stake protecting is country from the clutches of imported and ineligible rulers. Mr. Zulfi said that the political scenario of the country will be changed by PTI under the leadership of Mr. Imran Khan after coming into power with overwhelming majority, he added.
Qazi Shoaib Khan, Bureau Chief, District Attock