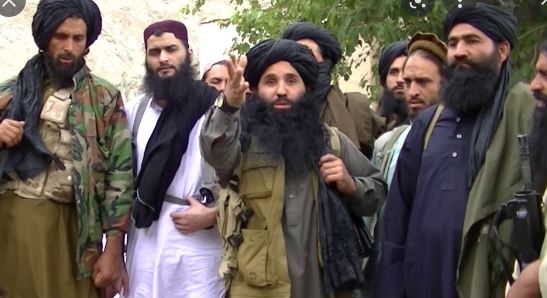 Shamim Shahid
PESHAWAR—Banned Tehrik Taliban Pakistan (TTP) has shown sever resentment over Interior Minister Rana Sana Ullahj's latest statement pertained to dialogues taking place in Kabul and Taliban's conditions.
Banned TTP in its statement issued to media by its spokesman threatened resuming of deadly violent acts and attacks in case of dialogues termination without reaching to any conclusion. However, Taliban said nothing about the ongoing ceasefire, continued since May 1st last.
Through a statement the banned TTP spokesman said, "we have no any desire for talks or truce with Pakistan government as the talks commenced on Pakistan army request." In the light of talks, Taliban declared ceasefire for three times but the action against Taliban by what he called "enemy" is continued." Through this statement, the banned TTP reaffirmed its stance on reversal of FATA status to tribal districts and evacuation of troops from tribal areas."
The banned TTP in its statement reaffirmed its stance/opposition to parliament and constitution of Pakistan, terming it what banned TTP "unislamic". Similarly, TTP also used negative words for the armed forces of Pakistan, terming it legacy of previous British colonial rulers.
Interior Minister Rana Sana Ullah after a high level meeting at Islamabad on Wednesday, while briefing the media said, "all sort of deals and heals with Taliban will be made through parliament, the Government has no any intentions either to reverse FATA status or to evacuate armed forces from tribal areas."
So far no any reaction made public by government against the recent statement of banned TTP.
Talks for patch up between government of Pakistan and banned TTP commenced soon after empowering of Taliban at Kabul in mid of August 2021 last. As a result of dialogues, brokered by Haqqani network headed by Interior Minister Siraj Ud Din Haqqani, Taliban declared ceasefire for one month from November 1st 2021 last. However, TTP declared "end to cease fire from December 1st 2021, accusing government/armed forces for violation or failure in its commitments, regarding release of prisoners.
The second phase of dialogues between the two sides was commenced in end of April through a traditional Jirga of South Waziristan. Besides others the Jirga members were included ex-Senator and JUI(F) leader Maulana Saleh Shah and Ikram Ud Din Mehsud, father in law of the then TTP chief Bait Ullah Mehsud. As a result, ceasefire was declared from May 1st, which was twice extended before landing of over 50 member jirga from all over Khyber Pakhtunkhwa. During this period, Corps Commander Peshawar and ex-ISI chief Lt. Gen. Faiz Hameed flown to Kabul on May 16th last and held two rounds of face to face talks with banned TTP commanders at Hotel Inter Continental and Hotel Serena simultaneously.
During talks, Talibann besides others demanded reversal of FATA status to tribal districts, evacuation of armed forces from tribal areas and declaring a free or peace zone for them along with Pak Afghan border. Almost leading political parties including ruling Pakistan Muslim League (N) and opposition's Pakistan Tehrik Insaf remained mum over TTP demands. Only Pakistan People's Party and Awami National Party while showing reservations, demanded tabling details of heals and deals before parliament. And in accordingly Prime Minister Shahbaz Sharif summoned and chaired high level body National Security Council meeting, which has rejected three major demands of banned TTP.