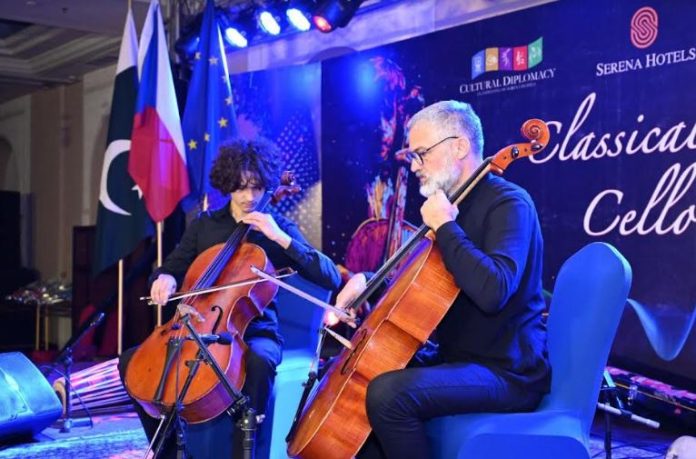 The cello concert was dedicated to raise funds for the rehabilitation of the displaced flood affectees
DNA
ISLAMABAD: Serena Hotels and the Embassy of the Czech Republic organised an evening of classical collaboration where world renowned violoncellist duo Jiri Barta and his son Josef Barta along with students from the Musicology department of National College of Arts performed extraordinary fusion pieces along with classics such as Bach.
While celebrating the National Day of the Czech Republic, the cello concert was dedicated to raise funds for the rehabilitation of the displaced flood affectees.
The event was well attended by people from all walks of life, including the members of diplomatic missions, corporate sector, and business community, where an ensemble of musicians from the Musicology department of the National College of Arts joined the Barta duo to create an eclectic blend of unique Pakistani and Western fusion playing traditional local melodies and rhythms, that enthralled the audience.
Aziz Boolani, CEO Serena Hotels, appreciated the generous support of the Ambassador of the Czech Republic to Pakistan, H.E. Tomas Smetanka in joining hands with Serena Hotels in raising funds for the relief and rehabilitation of the flood affectees. He also thanked the audience for their support and generosity in raising funds for this noble cause.
Serena Hotels as a responsible Corporate citizen has been active in supporting the flood affectees. The Company is matching the funds donated by the Hotel Guests and Associates, in addition to various fundraising events organised in collaboration with other diplomatic missions.. The relief goods, i.e., food supplies, and tents, are being distributed directly as well as through international NGOs under the banner of "Jazba-e-Khidmat – In the Spirit of Compassion" initiative.
It was an evening dedicated to building close cultural ties while creating an opportunity to generate funds for the relief efforts.