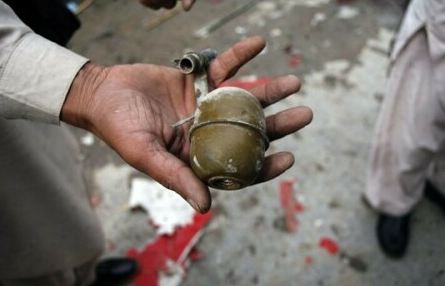 A policeman was killed and another injured on Saturday when militants lobbed a hand grenade at a police mobile in Khyber Pakhtunkhwa's Bannu district.
"The militants, who were on a motorcycle, threw a hand grenade at a police van," Bannu Division Police spokesperson Wajid Khan told, confirming that a police constable died and another was injured.
He said the attack took place within the remit of the Township police station when the police party belonging to the Domel police station was busy carrying out a raid. The details of the raid were not shared by the police so far.
The spokesperson added that additional police contingents reached the site and launched a search operation to "hunt the attackers" who fled after the incident.
He added that the injured policeman was transferred to a hospital for treatment.
Bannu has been at the forefront of militant attacks for the past month after the banned militant group Tehreek-i-Taliban Pakistan (TTP) formally ended the ceasefire on November 28, 2022.
On December 8, a policeman was killed when terrorists attacked a checkpost near Kinger Bridge in the Bannu district.
Detained militants inside a Bannu Counter Terrorism Department facility took over its compound on Dec 18, held interrogators hostage and demanded safe evacuation to Afghanistan.
The TTP, which has ideological linkages with the Afghan Taliban, executed approximately 100 attacks last year, most of which happened after August when the group's peace talks with the Pakistan government began to falter.