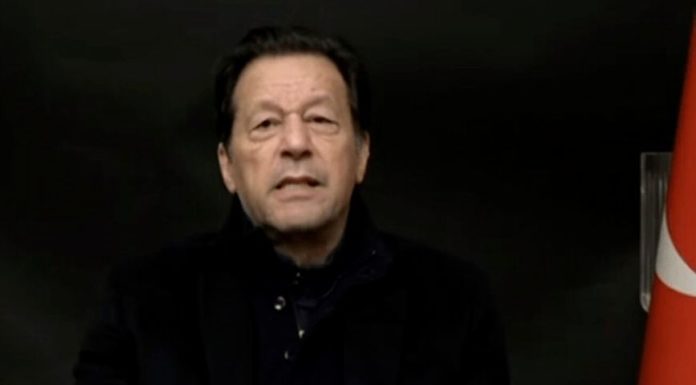 LAHORE, JAN 8: PTI Chairman Imran Khan said on Sunday that the establishment had not learned from past mistakes as "political engineering" was still underway in the country.
Addressing a women workers convention in Karachi via video link, Imran reiterated that the PTI desired free and fair elections. Once that happens, a new government will come if political engineering is not carried out, he said.
"I fear that unfortunately, our establishment has not learnt from the past. Today, we are seeing political engineering being carried out," he said as he pointed to the rumoured merger of the Muttahida Qaumi Movement's factions and Balochistan Awami Party members joining the PPP.
Imran alleged that similar efforts were afoot to bring the PML-N into power in Punjab while a "different game" was being played in Khyber Pakhtunkhwa" — all in an effort to weaken the PTI. "I don't understand the purpose of all this."
Imran further said that a "weak setup" introduced through political engineering would not be able to steer the country out of the current crisis. He echoed the same sentiments about a supposed technocratic government as well.
He said that a new government, with a public mandate of five years and which would be able to take "revolutionary measures", was the only solution for the country's woes.
"We want to bring about a peaceful revolution through the ballot box," he said, adding that Pakistan's crisis would soon go beyond the situation in Sri Lanka, which is witnessing an economic crisis.
Imran also spoke about the death of a labourer waiting in line for subsidised flour and assailed the high rate of inflation in the country.
He reiterated that free and fair elections were the only solution to the country's issues, calling on the establishment to learn from the past.
"Look at the past and see how much Pakistan has lost out on because of the establishment's political engineering. We have seen long-term disasters for short-term gains because of this."
Imran laid the blame for the current state of affairs on former army chief Gen (r) Qamar Javed Bajwa, alleging that he was the "powerful man" who had played a great role in where the country stood today.
During an informal talk with a group of court reporters on Friday, Imran had accused the military of political enginee­ring against his party, claiming that PTI lawmakers were being pressured to skip the trust vote proceedings in the Punjab Assembly.
So far, three legislators had informed him that they had been approached for the purpose, he had claimed. He also claimed the "neutrals" — a euphemism he uses for the military — were trying to install the PPP in Punjab.
Last Sunday, he alleged that Gen Bajwa had stabbed him in the back and that his "set-up" was still active in the establishment purportedly to stop the PTI from coming back to power.