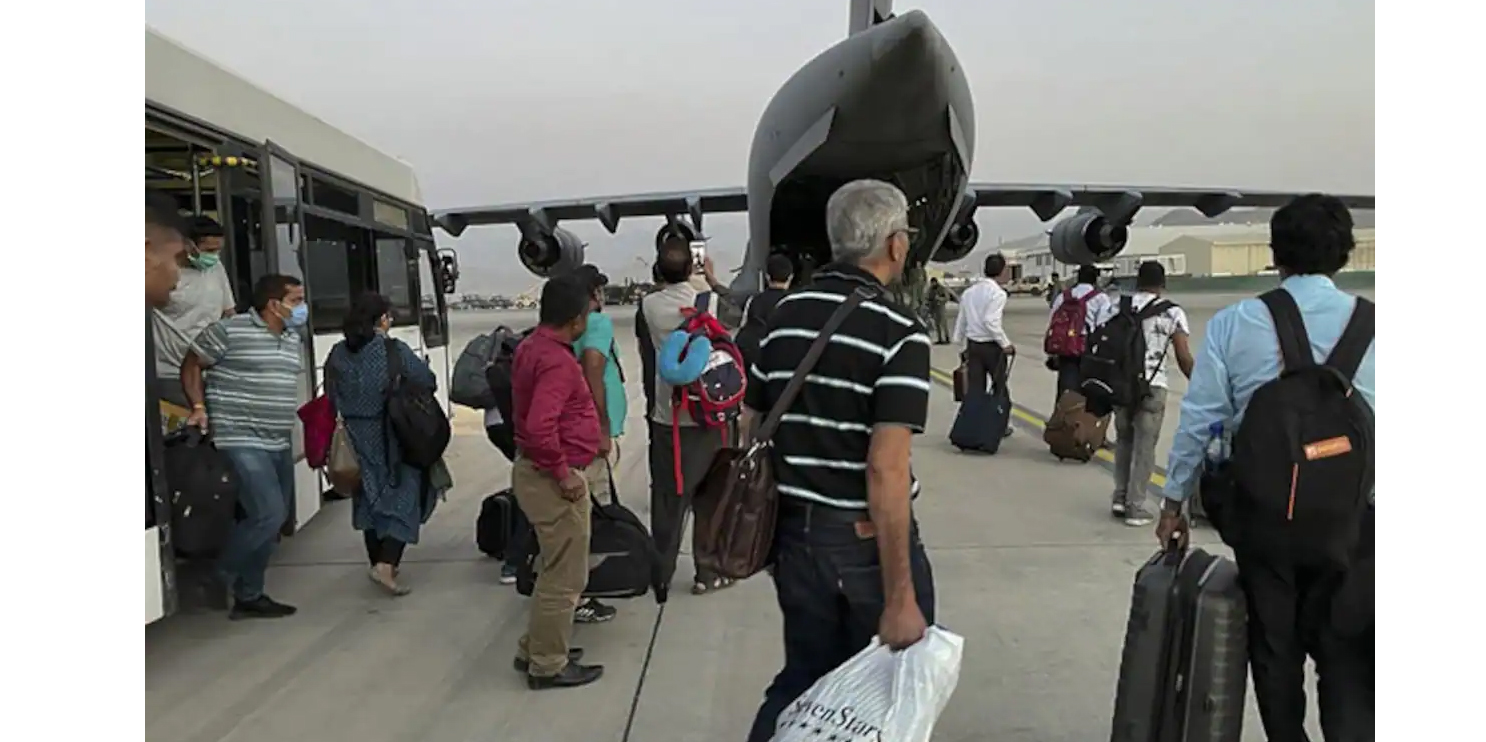 Over 900 reached during current month
Shamim Shahid
PESHAWAR—Whatever might be claimed on the part of high ups of Islamic Emirates of Afghanistan (Taliban regime) the fact is that due to serious socio-economic and political crises, almost all Afghans are making their best to flee the country and get refuge in any foreign country. Around one thousand who were evacuated by foreign missions are included amongst around 40,000 people who left Afghanistan and entered Pakistan during the last 13 days of January.
Though almost foreign missions are included, the United States is making its best to help its employees and aides along with families in their evacuation from war and economic constraints hit Afghanistan. However, the process of evacuation is now intensified and since January 4th, 2022 four foreign countries including the US through its diplomatic mission evacuated 960 people from Afghanistan to Pakistan via Torkham. Majority of these evacuated people 813 have been helped by Germany whereas Belgium is on second row with 69 persons, United Stated with 68 and Italy helped 10 individuals.
The evacuated individuals included 352 students, 186 women and 233 children. Besides these evacuated people are included people from different professions who have served these four foreign missions in various capacities like security guards, translators, kitchen workers, sanitary workers and others from November 2001 till August 15th 2021. However, one amongst these people is a journalist by profession. Likewise a teacher along with his spouse was also helped in shifting from Afghanistan to Pakistan.
Through some evacuated Afghans, this scribe came to know that Pakistan is not the last or final destination for them but they were assured of airlifting to various Western and Eastern countries. However, it will take some time in connection with passports, visa and other travelling documents. At the moment, these Afghan nationals are accommodated in various hotels and apartments in Islamabad.
Little before fall of Kabul to Taliban in mid August 2021, a large number of Afghans, especially associated with politics, parliament, media and international non government organs have either left the country for different foreign destinations or remained stranded. Later such people succeeded in arrival through Pakistan Interior Ministry special permits and almost all of the already flown to Western and European countries.
Apart from these lucky people, a large number of others who remain part of previous President Ghani-Karzai regime armed and police forces or other administrative organs also succeeded in arrival at Pakistan through one or the other ways. Almost all of them have got Pakistani visas from its diplomatic missions at Kabul, Jalalabad, Mazar-i-Sharif and other cities but their journey from different parts of Afghanistan to Pakistan remains an adventure. In particular crossing over the security and immigration procedure at Torkham was a tough time for them.
Saboor Shinwari is one amongst those who reached Peshawar after getting a Visa from Pakistan Embassy at Kabul. In a telephonic conversation with Islamabad Post, Saboor said, "I was an officer in Afghanistan Armed forces, therefore, left with no option except abandoning home at midnight between August 15th and 16th when some armed Taliban knocked at the door. For a couple of months he disappeared, first remaining with some relatives and friends in Kabul later slipped into rural areas in eastern part of the country. Finally he succeeded in getting a visa from the Pakistan Embassy at Kabul and reached Peshawar in the first week of January. However, he had thanked Almighty Allah after entering Pakistan as he was forced to stop by the Taliban a couple of times in Torkham.
Besides those who had served in the previous government, some individuals who remain critical to the Taliban are also included amongst those who left Afghanistan and reached Peshawar. Amongst them Amir Hamza and his other close relatives are now living in a rented room at Peshawar's Gulbahar area. Almost everyone is saying they have no problem with the Taliban or their system but they left the country due to increasing economic crises. Zameer said, " almost all trade and business activities are either on halt or on decline. Industries and other manufacturing units closed. Due to non-recognition grounds of the Taliban government, Afghanistan bilateral trade with all foreign countries especially with neighboring countries suffered a lot." "On such grounds, now almost everyone wants to flee the country," Zameer remarked.
Abdul Halim, a driver by profession from Darra Noor of Nangarhar province reached along with a son in Peshawar but other members of the family are still stuck, just family now stuck across the border in Afghanistan. Halim's visa tenure for stay in Pakistan has already expired but he is reluctant to go back due to lack of resources to pay immigration fine at Torkham. Each and every one fleeing Afghanistan and entering Pakistan having words and tales of their miseries and hardships for stock of stories and media reports.
The official date of NADRA at Torkham reveals that besides others around 1181 patients entered Torkham for getting medical treatment at Peshawar hospitals. Along with 1059 relatives allowed to enter Pakistan as attendants. However, in some cases immigration or border authorities are denying entry permission to close relatives of seriously ill patients. Sabawoon, a teenage girl is under treatment in Peshawar's private teaching hospital Kabeer on Nasar Bagh Road for the last several days but her mother, lacking visa and money, is crying just at the entry gate at Torkham in Afghanistan territory. Pakistani authorities from the last several months are making claims regarding extending help and pledges to people from war affected Afghanistan. In particular Pakistan through various foreign forums asked the global community to realise its responsibilities at this crucial stage when over 60 per cent Afghans are ahead with acute food and shelter shortage amidst chilly cold and rough weather.