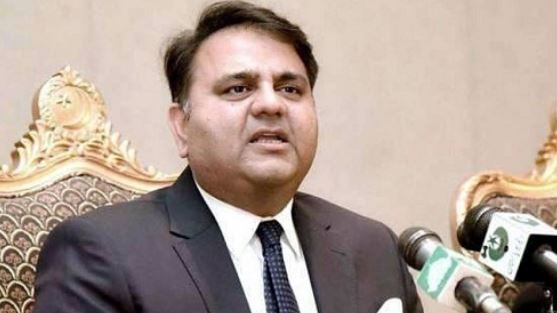 Asks Nawaz to return Pakistan to face court
PTI not believe in vengeful, vindictive politics: Fawad
Deplores Shehbaz's so-called govt eclipses HR records of Israel, India
ISLAMABAD: /DNA/ – Pakistan Tehreek-e-Insaf (PTI) Senior Vice President Fawad Chaudhary lashed out at Nawaz Sharif for escaping the country by lying to the court and said that undoubtedly Sharif family introduced the culture of 'corruption and fraud' in Pakistan.
Reacting to Nawaz Sharif's statement, Fawad Chaudhary said on Saturday that the fugitive Nawaz and his cronies looted and robbed the country with both hands and escaped the country by lying to the courts, as he did not have the courage to face the court.
He said that British journalists have already unveiled all the facts related to the Daily Mail issue, adding that no court proceeding was conducted of the case made by Shahzad Akbar against Shehbaz Sharif.
Fawad Chaudhary stated that the cases against Shahbaz Sharif and his sons worth 24 billion were ended by managing the FIA.
Similarly, he said that Nawaz Sharif succeeded to manage his cases as a result of striking a formal political deal. However, Fawad Chaudhary challenged that if really the Sharif family thought themselves innocent, they should let their cases be proceed on merit, as they neither should amend the laws nor should influence the court proceedings.
He stated that all illegal and inhuman actions in Pakistan were initiated by PML-N, adding that the practice of using the process of accountability against political opponents was also introduced by PML-N.
Fawad Chaudhary reminded that the PML-N used all immoral and illegal tactics against late Benazir Bhutto but unfortunately, Benazir's heirs have now joined the ranks of those who were involved in her character assassination.
PTI did not believe in the vengeful, revengeful and vindictive politics; hence Nawaz Sharif should come to Pakistan and face his cases on merit, so as justice could be done, he added.
Fawad Chaudhary made it clear that Nawaz Sharif was not disqualified for taking salary from his son, but for not providing money trail of properties worth billions.
He said that Nawaz Sharif could not give answer till today pertaining to the money trail of the expensive apartments in London.
PTI Senior Vice President stated that Nawaz's brother ruined the country's fast thriving economy, adding that imported government nosedived the economy growing at a pace of 6% and put a halt on the investment in the country during the last eight months.
Fawad Chaudhary stated that the people of Khyber Pakhtunkhwa voted the PTI to power time and again because for its performance, adding that the Billion Tree project also got international recognition, which was one of the major achievements of PTI government.
He warned that the nation would hold accountable those who flouted the law of the country and made live of the people a hell.
Reacting over Shahbaz Sharif's message on International Human Rights Day, Fawad Chaudhary said that his eight months of strategy regarding human rights was the worst in the history of Pakistan.
Fawad Chaudhary stated that Shehbaz's so-called government eclipsed the human rights records of Israel and India. "I wonder how you dare to issue a message on International Human Rights Day," he added.
About Bilawal Bhutto's video message about Facebook monetization, Fawad Chaudhary mocked that Bilawal must have found out in his visit to Singapore today because he rarely came to Pakistan, otherwise the agreement for monetization of FaceBook in Pakistan has been signed during PTI government.