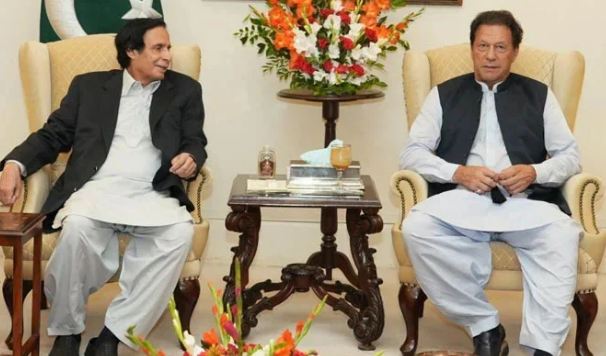 LAHORE: Pakistan Tehreek-e-Insaf (PTI) Chairman Imran Khan will consult with Pakistan Muslim League-Quaid leader Parvez Elahi on their nominees to take up the position of interim chief minister (CM), PTI leader Fawad Chaudhry said on Sunday.
In a tweet, the PTI senior vice president said that under Article 224 of the constitution, both the CM and the leader of the opposition should name an interim CM with consensus. "If the two leaders fail to reach an agreement, then two proposed names from each side will be sent to a parliamentary committee," he added.
Fawad added if the parliamentary committee also fails to decide then the same names are sent to the Election Commission of Pakistan (ECP).
"The ECP does not have the authority to name someone out of the list given," he added.
The Punjab Assembly dissolved on Saturday after the governor, Baligh Ur Rehman, refused to sign on the summary sent for disbanding the legislative.
Elahi — will serve as CM until a caretaker government is appointed — had forwarded the summary of dissolution on Thursday, and as per the Constitution, the assembly dissolves within 48 hours regardless of the governor's decision.
Following the dissolution, Rehman sent letters to CM Elahi and Leader of the Opposition in the Punjab Assembly Hamza Shahbaz for the appointment of a caretaker government.
PTI chief to discuss dissolution of KP assembly: sources
Meanwhile, sources told Geo News that the former premier would hold a meeting with party leaders at Zaman Park today.
The party leaders would discuss matters pertaining to the dissolution of the Khyber Pakhtunkhwa (KP) Assembly, and also the possibility of asking Prime Minister Shehbaz Sharif to seek a vote of confidence via President Arif Alvi.
According to sources, PTI was waiting on the Muttahida Qoumi Movement's (MQM-P) decision on their reservations over the local government (LG) polls in Karachi and Hyderabad divisions, before pushing the president to ask the PM for a vote of confidence.
KP Assembly dissolution
Earlier, KP CM Mahmood Khan announced that the provincial assembly would be dissolved on Saturday. However, the summary for the dissolution was not moved.
Speaking at an event in Peshawar, the chief minister had said that copies of the summary of dissolution would be shared with journalists after it it would be sent to Governor Haji Ghulam Ali.
"We will start again from zero," he had added.
Mahmood said people belonging to the middle class were worried about inflation. The federal government was still sitting on the KP government's funds, he added.
On Friday, PTI provincial president Pervez Khattak said that the KP Assembly would also be dissolved after the dissolution of the Punjab Assembly. He asked the PTI workers to start preparing for the next election.