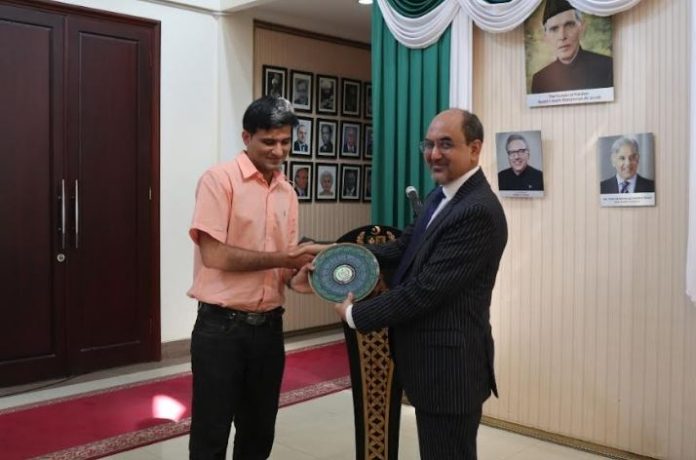 JAKARTA, JUN 21 /DNA/ – The Embassy of Pakistan, Jakarta, in collaboration with Trade Development Authority of Pakistan (TDAP), held a webinar, in a hybrid format, on Tourism Potential of Pakistan, in the Chancery today. The event was physically attended by over fifty travel agencies and hospitality sector representatives of Indonesia and virtually by tour operators from Pakistan. From Indonesian side, the speakers included Mr. Mufti Hakam, Chairman Bilateral Committee of KADIN, Mr. Syukiri, Chairman ASATI, and Ms. Madeleine, Head of Public Relations of ASTINDO. From Pakistan side, Mr. SadruudinHunzai Secretary General,PATO,Malik Azmat Awan Vice President PATO, Mr. AsimTiwana Director, Services TDAP and Ms.Sadia, Deputy Director, PTDC delivered their presentations.
In his welcoming remarks, Ambassador Muhammad Hassan highlighted that despite excellent bilateral relations between Pakistan and Indonesia in political and economic realms, the tourism flow between the two countries was underwhelming. Highlighting the reasons for lack of tourism between both countries, which included lack of information about Pakistan in Indonesia and absence of direct flight between the two countries, the ambassador statedthat the Embassy was determined to work on these areas. He mentioned that the Embassy had recently got a guidebook published on Tourism Potential of Pakistan, in Bahasa and English languages, which would be helpful in enhancing the awareness of the Indonesians about Pakistan and the treasure trove of tourism it holds.
The Pakistani speakers gave detailed briefings on Pakistan covering the thriving tourism potential of the country. They informed the audience about the immense potential that Pakistan holds for almost all fields related to tourism including, adventure tourism, halal tourism, religious tourism, and mountaineering etc. They also mentioned about the various initiativesof the government of Pakistan to promote tourism.
While expressing their keen interest in exploring Pakistan, the Indonesian speakers agreed on the need to enhance mutual collaboration in the field of tourism.They appreciated the holding of the webinarby the Embassy and acknowledged that events like this would bring more awareness amongst Indonesians about Pakistan's untapped tourism potential.
The Embassy also distributed the guidebookon tourism potential of Pakistan among the participants The participants were served with traditional Pakistani and Indonesian cuisine at the end.