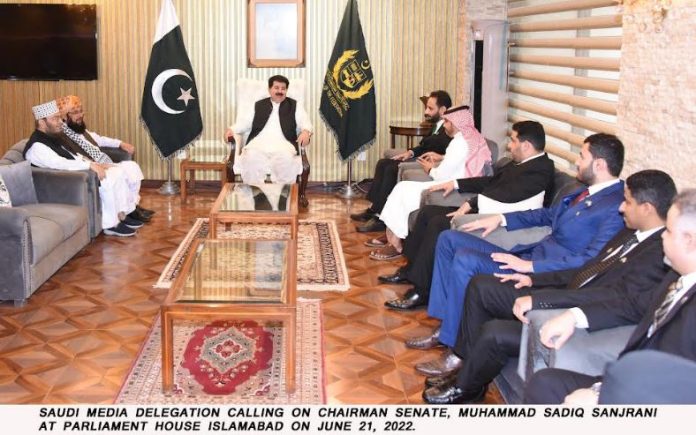 ISLAMABAD, JUN 21 /DNA/ – A Saudi delegation of the "Road to Makkah" project called on Chairman Senate Muhammad Sadiq Sanjrani at Parliament House.  Progress on the implementation of Road to Makkah project was discussed during the meeting. Senator Maulana Abdul Ghafoor Haideri and Senator Hafiz Abdul Karim were also present in the meeting. Chairman Senate Muhammad Sadiq Sanjrani said that the Road to Makkah project is of utmost importance in providing facilities to the pilgrims. Pakistan and Saudi Arabia have historic fraternal relationship and Saudi Arabia has stood by Pakistan in every difficult situation.
He underlined that the two countries have a common position regarding the issues facing the Muslim Ummah at all international forums. The Chairman Senate added that the Road to Makkah project needs to be further expanded and launch of such facility for Hajj pilgrims is need of the hour.
Chairman Senate was of the view that facilitating people in performing the sacred religious pilgrimage like Hajj would help in the promotion of Islamic brotherhood. The Senate Chairman thanked the Saudi government for launching the Road to Makkah project.
The Senate Chairman said that cooperation with the Saudi government would continue in order to facilitate the pilgrims. Senator Maulana Abdul Ghafoor Haideri and Senator Hafiz Abdul Karim also termed Pakistan-Saudi Arabia relations as historic. The Chairman Senate said that the Custodian of the Two Holy Mosques has always attached great importance to Pakistan-Saudi relations and millions of Pakistanis reside in Saudi Arabia and are playing important role in the economic development of Saudi Arabia.
Pakistani diaspora is acting as a bridge between the countries. Sadiq Sanjrani praised Saudi Arabian leadership's vision of economic prosperity and development. The Senate Chairman also commended Saudi Arabia for its reliance on modern technology and assured the delegation of his full cooperation. Expressing their views on the occasion, the Saudi delegation said that "We are very happy to come to Pakistan and Pakistan is an important country for Saudi Arabia. We have come to serve our Pakistani brothers".  The delegation apprised the Chairman Senate of the aims and objectives of the Road to Makkah project and expressed their desire to further strengthen bilateral cooperation.