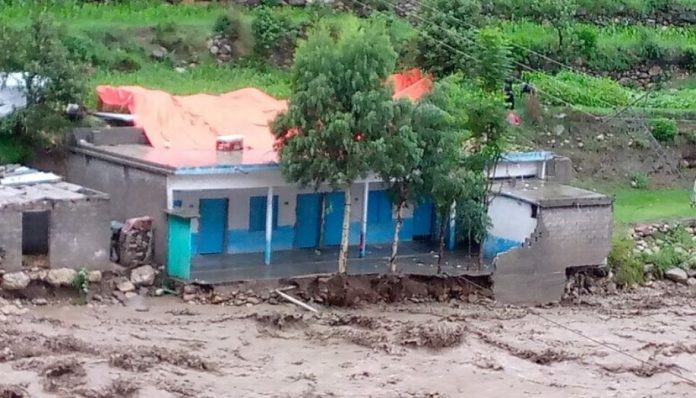 The government of Khyber Pakhtunkhwa (KP) has declared a rain emergency in the Swat district with immediate effect till August 30 after the Provincial Disaster Management Authority (PDMA) warned of "high to very high floods" in the Swat River.The decision was taken on the recommendation of the National Disaster Management Authority (NDMA).
KP's Provincial Emergency Operations Centre said that water flows in River Swat at Khawazakhela point and its tributaries/nullahs had reached high to very high flood levels — 227,899 cusecs — which "may result in a dangerous situation for communities living nearby".
It has directed the deputy commissioners of Swat, Lower Dir, Malakand, Mohmand, Charsadda, Mardan, Nowshera and Peshawar to immediately identify vulnerable points and communities at risk to devise mitigation and safety measures.
"Maintain enhanced alert level and monitor the developing situation to reduce reaction and response times," the centre said, calling for the sensitisation of people living on the banks of the rivers about the increase in water flows.
"Make announcements for timely evacuation of the at-risk population from low-lying/flood-prone areas as per evacuation plans," it added.
The PDMA also instructed authorities to evacuate cattle from areas at risk of flooding, as well as restrict vehicle movement there.
Monsoon rains this year have spelt disaster for the country. Flash floods in Shangla and Kohistan yesterday wreaked havoc where several portions of the Karakoram Highway, link roads, suspension bridges, houses, hospitals, schools, mini power stations, and water mills were completely washed away.
Earlier today, at least three people drowned in the River Indus near the Bisham area of Shangla. According to the locality's station house officer, Abbas Khan, two other men in the Shang area were also swept away during the floods.
Separately, a Shangla health department official, Ijaz Ahmad, told that a rural health centre in the Karora area had been washed away by the floods in the Kana river.
Shamsul Hadi, a resident, said that three houses and a mosque were swept away in the floods, while roads and bridges leading to the Ranolia and Dubair areas had been completely destroyed.
In Shangla, the Alpuri-Puran and Karora-Kana roads also suffered several damages at several points, creating a sense of panic among the residents as they were restricted to their houses.
All government and private schools in the area have also been closed until further notice.
In a statement today, the Frontier Works Organisation said that the Karakoram Highway was swept away by floods at Zaidkarh Dassua and was blocked at several points due to landslides.