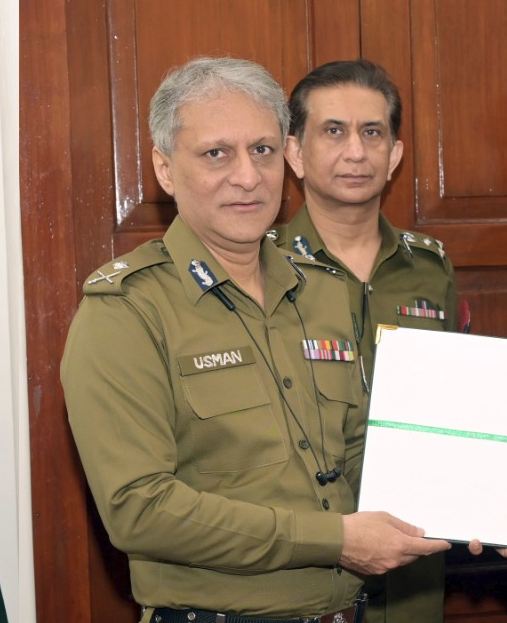 FROM QAZI SHOAIB KHAN
DNA
ATTOCK (MARCH-05): Inspector General Police Punjab Usman Anwar on Sunday while addressing through video link has directed all the Regional Police Officers and District Police Officers of the Punjab to activate "Protection" centers in all regional police offices of the province by Sunday March 5 and by March 12 in all district police offices.The director public relations of Punjab Police Mr. Nayyab Haider told media that IG Punjab has directed RPOs and DPOs to activate these "Protection Centers" as per the issued instructions and leave no stone unturned in serving and protecting the vulnerable sections who deserve help and attention apart from transgender and helpless children. IG Punjab said that these "Protection Centers" will play a significant role in helping and protecting transgender, destitute children and homeless children suffering from mental problems. IG Punjab ordered the RPOs, DPOs to ensure best measures under personal supervision for the security of foreign nationals, especially Chinese residents.
Dr. Usman Anwar said that the security of Chinese citizens is the first priority, so security inspections of all working sites including Chinese citizens' residences, offices should be done regularly. IG Punjab directed all the RPOs and DPOs to initiate strict crackdown across Punjab to protect the precious human lives from kite flying and said that the law breakers involved in manufacturing, buying, selling and using metallic strings and kites should be brought under the grip of the law and should be severely punished. He said that the concerned circle officers and DPOs will be held accountable in future where the incident of metallic kite string comes to light. IG Punjab gave Shabash to the district police officers for registering more cases on calls of 15 and reprimanded other officers for less registration of cases. He said that the indicators which were considered negative in the past for police performance are now being considered as a sign of positive performance. IG Punjab while giving orders to make the ongoing crackdown more effective for the arrests of proclaimed offenders stressed to accelerate communication with Interpol and more effective follow-up to arrest proclaimed offenders involved in serious cases.
He said that if there is a need to enlist absconders as proclaimed offenders, they should be enlisted proclaimed offenders without any delay because untill we know the exact targets; our line of action will not be correct. He said that the CPOs and DPOs of the districts who enlist more proclaimed offenders in the police files are worthy of praise and their performance is worthy of emulation for other officers. Dr. Usman Anwar directed to ensure strict legal action under zero tolerance in registering cases of electricity theft. He said that electricity theft is a national loss and we have to deal iron handedly with those who damage the national treasury and this is possible when cases of electricity theft are registered without delay. He said that the Circle Officer and SHO will be directly responsible in registering such cases where there is delay in action. IG Punjab said that all DPOs should maintain close contact with the local WAPDA XEN and ensure prompt action on power theft complaints. Dr. Usman Anwar gave further instructions to the RPOs, DPOs and said that they should complete the case files (Mislain) of the cases in all the police stations within fifteen days, after which I myself or one of my representatives will inspect these case files during the inspection of any police station. Where the case file of the case is not completed, the supervisory officers will have to respond. These instructions were issued by the IG Punjab to all the RPOs, CPOs and DPOs of the province while presiding over the video link RPOs conference at the Central Police Office today. In the conference, the crime situation in different regions and the performance of police teams were reviewed.
IG Punjab Dr. Usman Anwar said that regular inspection of store houses ( Maal khana) should be a priority of supervisory officers and in this regard all DPOs should not only regularly inspect Maal Khana in their districts but also send reports to Central Police office through the concerned RPO. Dr. Usman Anwar said that professional paid guarantors and witnesses should be discouraged in all districts and networks and mafias involved in this business should be eliminated. He said that alongwith assistance of Prosecution department, lists of those persons should be prepared who were seen as guarantors and witnesses in two or more cases. He said that persons appearing as guarantors/witnesses and their bail documents should not only be checked, but it should also be seen why the same people are coming to the courts as guarantors and witnesses in various cases. During the conference, Special targets were assigned for suppression of accused implicated in cases of blind murders, double and triple murders and murder during dacoity. IG Punjab said that in the performance evaluation process, along with good performance, the element of transparency is being given significant importance. In the meeting, DIG IT Ahsan Younis, DIG Establishment Dr. InamWaheed, AIG Admin Ammara Athar and CTO Lahore Captain (Rtd) MustansarFeroze were present while all the RPOs, CPOs and DPOs of the province participated through video link, DPR Punjab Policeadded.
QAZI SHOAIB KHAN, BUREAU CHIEF, DISTRICT ATTOCK