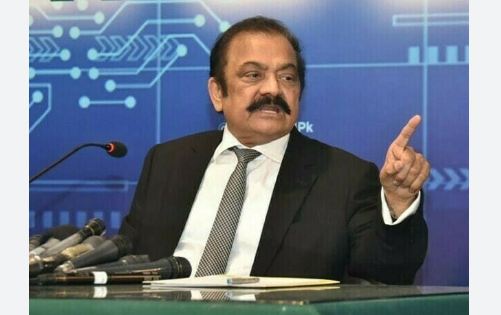 –Says some PTI MPAs want to join them, but the SC verdict is a hurdle
LAHORE, JAN 11 (DNA) — Interior Minister Rana Sanaullah has said that he will go to Islamabad only after retaking the Punjab government.
Talking to the media on the premises of the LHC on Wednesday, the Interior Minister said that Chief Minister Pervaiz Elahi has no required number of MPAs – 186 – and he cannot get the vote of confidence in any case.
The minister claimed that the opposition alliance will win the runoff election. "The Punjab chief minister got 20-20 days twice, but he committed corruption of billions of rupees," he added.
He said that the court had given the relief to Pervaiz Elahi and for which, the people paid a heavy price. "We request the court to decide the case immediately so that the minority government should not remain imposed," he maintained.
He urged the court to put an end to the alleged corruption and loot by the Pakistan Tehreek-e-Insaf (PTI) and Punjab Chief Minister Chaudhry Pervez Elahi which he claimed was worth around Rs2 billion a day.
He further said that most of the members of provincial assembly are currently outside of the country, and they were trying to manifest a victory in the vote of confidence. Sanaullah added that Elahi's son, Moonis, had allegedly fled the country on a chartered plane with corruption money.
During his media talk, PML-N leader Attaullah Tarar predicted that certain MPAs including Momina Waheed, Javed Akhtar Khan Loond, and Hafiz Ammar Yasir may not attend the session for vote of confidence. Their absence could potentially swing the vote in favor of the opposition, he suggested.
"I tell you, they cannot achieve the 186 votes needed to succeed in the motion," he said, adding, "with the assistance of the interior ministry, we can track the positions of their MPAs using geofencing." He said, "They only have 177 MPAs on their side.
The federal interior minister, how has in the past served as the provincial home minister, further stated at his news conference that Lahore CCPO Ghulam Mahmood Dogar – who also heads the JIT – had manufactured the team's report in connivance with PTI Chairman Imran Khan and is completely without merit.
"There was just one gunman, identified as Naveed, and Moazaam was killed by a bullet that was fired from a container," he insisted. = DNA