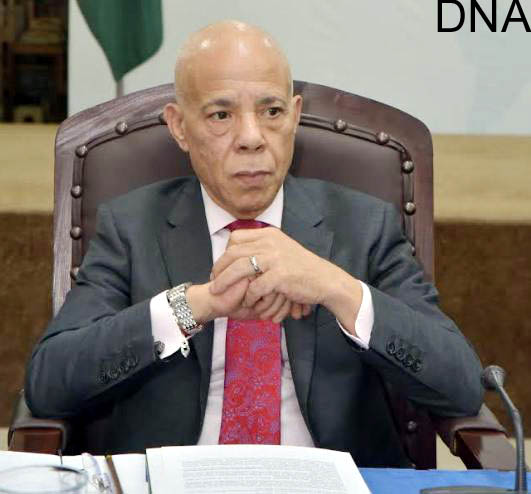 Says Pakistan relations with Africa are smoothly developing. Before the launch of "Look Africa Policy", Pakistan had only 14 missions in 54 African countries
Exclusive
Ansar M Bhatti
ISLAMABAD: Ambassador of Morocco and Dean of the African Group has said that Africa was now building its single market to facilitate trade among States parties to the African Continental Free Trade Area (AfCFTA) and with the rest of the world.
He further said that the African Union had made the 'Acceleration of the African Continental Free Trade Area implementation' its main theme for the year 2023 to increase the attractiveness of the African market for trade and investment, though a number of critical protocols were yet to be negotiated, finalized and implemented.
He expressed these views in an exclusive interview with Daily Islamabad POST, Centreline journal and DNA News Agency, on the occasion of the Africa Day.
He noted that the 'Engage Africa' policy had resulted in the organisation of three Trade and Development Conferences in Africa. The objective of these forums had been to highlight the untapped potential of trade and investment relations with African countries and to present Pakistan's export sectors to African business communities. He also shared his thoughts on how the economic relationship could be further deepened and broadened.
'Fifty-four African states have signed a framework agreement establishing the African Continental Free Trade Area (AFCFTA), which covers a region with a total gross domestic product of approximately $3.4 trillion and a market of about 1.4 billion consumers', he added.
He said, as of April 2023, 47 African countries have ratified the agreement (87%), which came into force in May 2019. Since this date, efforts are being enhanced to accelerate the implementation of the existing tools to facilitate trade under the AFCFTA.
To a question he said, business communities from Africa and Pakistan can join efforts to benefit from numerous market opportunities in the Continent. The implementation of the AfCFTA will undoubtedly unveil a great potential for further growth in Pakistan-Africa trade economic relations. Many African countries are still developing and have a potentially lucrative market for Pakistani businesses.
I have to mention here that important initiatives have been made by Pakistan to boost economic cooperation with the Continent, Ambassador Karmoune added.
Talking about Pakistan's desire to reach out to the African countries, he said, The "Look Africa policy", initiated in 2017, has resulted in the organisation of three Trade and Development Conferences in Africa. The first was held in Nairobi, Kenya, in 2020. The second took place in Lagos, Nigeria, in 2021 and the third was organised in Johannesburg, South Africa, at the end of 2022.
The objective of these forums was to highlight the untapped potential of trade and investment relations with African countries and to present Pakistan's export sectors to African business communities in different sub-regions of Africa.
These initiatives, he said, have indeed pushed the trade volume between Pakistan and Africa to 6 billion dollars in 2021.Our common objective, however, is to make Pakistan and Africa economic relations sustainable by encouraging business communities to set up win-win investment joint-ventures in different economic sectors.
The AfCFTA Secretariat has selected four key sectors that represent high-potential opportunities for companies looking to invest in Africa:
1-the automotive industry.
2- agriculture and agro-processing.
3- pharmaceuticals.
4- transportation and logistics.
Other sectors such as infrastructure, energy, mines, ICT, education, tourism, etc. presents equally a high potential. African countries are looking for the export of high value-added products. The export of primary commodities, has made the Continent particularly vulnerable to external macroeconomic shocks and protectionist trade policies.
To yet another question the ambassador said, on the diplomatic level, Pakistan relations with Africa are smoothly developing. Before the launch of "Look Africa Policy", Pakistan had only 14 missions in 54 African countries. The number of Pakistani resident missions has now reached 21 Missions on the Continent (Libya, Algeria, Tunisia, Egypt, Morocco, Senegal, Nigeria, Niger, South Africa, Mauritius, Djibouti, Zimbabwe, Tanzania, Kenya, Sudan, Ethiopia, Ghana, Rwanda, Côte d'Ivoire, and Uganda). Moreover, the interest of Pakistan in Africa is becoming stronger and stronger despite the economic challenges the country is facing.
'We welcome Pakistan's willingness to further boost economic cooperation with Africa. The establishment of a Pak-Africa Special Engagement Fund is a good signal in this direction. The fund, as I have learned, will subsidise, promote and encourage Pakistani businesses which will elect Africa for their development.
Instead of focussing on just increasing trade with African countries, Pakistani enterprises will be able to produce in Africa, benefit from the ACFTA and be competitive in other external markets.
When asked to comment on people to people ties he said, other promotional actions and people to people contacts should always be high on the agenda. I am thinking, for example, of the following initiatives:
Participation of African and Pakistani business communities, Chambers of Commerce of both sides in trade fairs organised here or there. This will help in the exchange of information and partnering in different economic fields.
Encourage the creation of joint ventures in order to strengthen the mutually beneficial partnership between Pakistan and Africa.
3-Promotion of the establishment of direct maritime and direct air links to facilitate people's mobility and visits of business delegations.
Promotion of cultural exchange and cooperation in areas such as education (Scholarship and Exchange programs between universities), training and tourism.
He said he was convinced that Pakistan's growing interest in Africa will aid in the expansion of its export market and the bolstering of its political influence. Africa has a promising economic potential, lucrative investment opportunities, abundant natural resources. It is the land of endless opportunities.